The History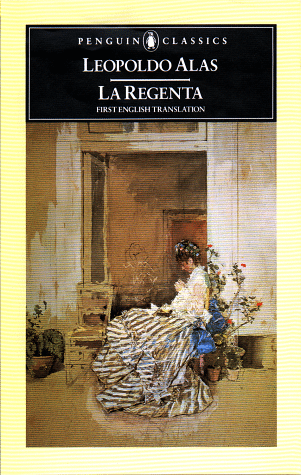 La Regenta is a romance written by the Spanish Leopoldo Alas, also known with the pseudonym of Clarìn (1852-1901) and published in 1884. The main character of the book is dona Ana de Ozores, spouse of don Victorio Quintanar, the ex ruler of the courthouse of Oviedo (in the book called Vetusta).
Pure and honest, but aggravated by the indifference and the incomprehension of the old husband, from whom she is separated by a hell of age and spirit, the young woman finds herself driven by her romantic nature and by the mean provincial society of her city into a long and tormented interior tension. On one side, Ana finds herself in a morbid mystic exaltation instigated by the young and ambitious vicar of the diocese, don Firmino de Paz, who ends up falling in love with her penitent and hides for a long time his feelings under the formula of her "older brother of the soul". On the other side, she faces the dangerous temptation for the reckless don Alvaro Mesia, who knows the arts to meander into the heart and the senses of the woman. The stupidity of the husband, who makes of don Alvaro his own confident, easies the siege of the latter to the virtue of dona Ana, who eventually falls to her temptation. But the love affair is revealed to the husband by the young housekeeper, Petra, who holds in her hands all of the three men involved, willing or not, in the vile affair and blackmails all of them.
Don Alvaro, faced to duel by Don Victorio, on his turn instigated by don Firmino, who cannot vindicate himself of the lucky rival, unexpectedly kills, in the courage of cowardice, the old men. And on la Regenta, worn out by regrets and by physical and spiritual prostration, relapses the shocked disdain of the "good people", who in their own guilty way, before, had helped her to fall.
 The long romance, divided into two volumes of 1100 pages, is the first to introduce the realistic technic in Spain and remains one of the best realizations of this form of literature. The author reveals a compact and vigorous art, in which the reality of the environment takes on a greater significance than that of the souls. Alas has portrayed the asturian province with its typical larger-than-life characters (the nobles, the priests, the bureaucrats), embellishing everything with his "philosophic irony" and his "psychological sense of humour". Besides, an argument that worries many iberic writers is what makes the grandiosity of the book: the dramatic and painful conflict, in a priest's conscience, between the vote to reject the temptation of the senses and the submission to natural laws. La Regenta has its place of honour in the long stream that from the Portuguese Herculano (Euric the priest) and Eca de Queiroz (the homicide of Father Amaro), reaches the Spanish Valera (Peppina Jimenez).